Details
Superior Anti-Snap Euro Cylinder from Yale
Lock snapping used in 1-in-4 burglaries - protect against it!
High security euro cylinder with Anti-Snap, Anti-Bump, Anti-Pick, Anti-Drill and Anti-Extraction features. Protects against all known methods of attack. Guaranteed TS007 1 Star security from a name you can trust.

Manufactured to British Standard (EN 1303: 2005), this is a cylinder that you can trust. Whatsmore, it is manufactured by Yale, the worlds most trusted brand and comes with a 2 year surface guarantee. Ideal high security upgrade for home or workplace.
Features & Benefits
Anti-Snap Protection – sacrificial cuts and hardened steel bar
Anti-Pick Defence – includes four anti-pick pins at each end
Anti-Bump Resistance – uses 'V-Pins' to resist lock-bumping
Anti-Drill Shielding – possesses anti-drill pins and balls
Anti-Extraction Security – resistance to plug and cylinder pull
High Security Key – combines dimples and groove with 100,000 differs
Superior Strength – solid construction with hardened steel bar
British Standard Kitemark – assurance of quality and peace of mind
2 Year Guarantee – long surface guarantee
---
---
Why have a High Security Euro Cylinder
Most uPVC and composite doors are fitted with a cylinder lock with revolving cam. Turning the key revolves the cam, which engages the door's locking mechanism. The design has inherent weaknesses but a high security cylinder, like Yale Superior, can protect against them. Three reasons to buy a high security euro profile cylinder:
Protect your property - high security cylinders are a physical and visual deterrent
Insurance compliance - failure to use an Insurance Approved cylinder could invalidate an insurance policy
Peace of mind - trusting a high security lock means you can rest easy at night
EXTRA KEYS - 3 keys are provided with single cylinders and 6 keys with keyed-alike pairs as standard. Additional keys, which are cut using genuine Yale blanks, can be ordered with the cylinder. Please note that extra keys are a nonrefundable bespoke service.
---
Technical Information
Measurement
Value
Sizes
From 30/30 (60mm overall) to 50/50 (100mm)
Finish
Polished Brass or Nickel
Keys
3 supplied with key code (extra keys available)
Security Features
Anti-Snap, Anti-Bump, Anti-Drill, Anti-Pick, Anti-Plug Pull
Standards and Accreditations
TS007: 2012 KM559658 – 1 Star kitemarked high security euro cylinder
Secured by Design – Official Police Security Initiative
BS EN 1303:2005 4.9.1 – Resistance to drilling
BS EN 1303:2005 4.9.5 – Plug/cylinder torque resistance
---
What size do you need?
It's vital that you order the correct size cylinder for your door. To determine which size cylinder you require you must first remove the cylinder.
Removing existing cylinder
Put your key in the lock and open the door.
Remove the screw which is beneath the latch.
Turn the key while apply slight pressure to the opposite end of the cylinder. As you do so the cam will line up with the rest of the lock and you will be able to slide the cylinder out towards yourself. The key usually needs to be turned approximately 25º clockwise or anti-clockwise.
You can now measure the original cylinder.
Measuring the existing cylinder
On the side of the cylinder, under the cam, you will see a Fixing Hole. The size you require is determined by the distance from each edge of the cylinder to the centre of the fixing hole.
Measure from the end of the cylinder to the centre of the Fixing Hole, to give the first measurement (a)
Measure from the centre of the Fixing Hole to the other end of the cylinder, to give the second measurement (b)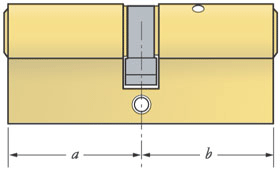 If measurement a = 35mm and measurement b = 45mm then the size required is referred to as 35/45 (80mm overall). Some double cylinders (key operated at both ends), like the Yale Anti-Bump and UAP+ Zero Lift Anti-Snap cylinders feature security on both ends. So, ordering a 35/45 cylinder is the same as ordering a 45/35 cylinder.
Additional Information
| | |
| --- | --- |
| Material | No |
| Manufacturer Part Number | No |
| Guarantee | 10 Year Mechanical |
| Colour | - |
| Range | Superior Series |
| Brand | Yale |
| Further Detail | No |
| Category of Use | Grade 1 - Usable after resisting 2.5Nm torque |
| Durability | Grade 6 - 100,000 cycles |
| Door Mass & Closing Force | n/a |
| Fire Resistance | Grade 0 - No requirement |
| Safety | n/a |
| Corrosion | Grade C - Corrosion and temperature resistance approved |
| Key Security | Grade 6 (see Key Security Grade) |
| Attack Resistance | Grade 2 |
| Direct Coding on Key | No |
| Effective Differs | 100,000 |
| Moveable Pins | 6 |
| Cylinder/Plug Torque Resitance | 15Nm |
| Twisting Attack | 30 Twists |
| Cylinder/Plug Torque Resistance | 30Nm |
| Chisel Attack | 40 Blows |
| Drilling | 5 mins |
| Cylinder/Plug Extraction | 15kN |
| Security Features | No |
| Operation | Key / Key |
| Certification | No |
| Lisitng Install Guide | No |
| Lisitng Pack Contents | No |
Fitting & Usage
Whenever available, this tab will be populated with fitting and usage advice for Yale Superior Anti-Snap Euro Cylinder.
If you don't see what you require then please contact our sales team.
Downloads
This tab will contain downloadable material about Yale Superior Anti-Snap Euro Cylinder, such as PDF fitting guides that we or the product manufacturer has produced.